4 Steps to Making EE a Daily Habit.
Organisations have been talking about employee engagement for years but research shows that for many businesses' engagement levels have become stagnant, with many feeling they've not made the gains they'd anticipated for the investment they've made.
Dale Carnegie research, 'Employee Engagement, It's Time To Go All-In', discovered that although,
85% of leaders say employee engagement is a priority only a third of organisations actually make it one, instead just paying lip service to the concept.
In-fact 35% of leaders said that focusing on employee engagement was a distraction from getting the real work done.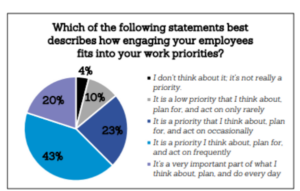 But the business case for engaging employees is stronger than ever with credible data showing that engaged employees are the new competitive advantage and companies with highly engaged workforces outperforming their peers by 147% in earnings per share.
With the cost of replacing the average employee being in excess of £30,000 – the case for keeping your people happy is stronger than ever.
Getting employee engagement back on the agenda needn't be a mammoth task, with the study also showing that employees were 4 times more likely to get the job done if their manager made employee engagement a daily habit.
With many companies wanting to take EE to the next level to maximise human performance, Dale Carnegie's research suggests that by enabling every leader in an organisation to make engagement a daily habit is the only way for businesses to get the results they desire.
Dale Carnegie's 4 Steps to Making EE a Daily Habit
Treat employee engagement like all other strategic priorities
Engage leaders at every level. Creating a culture of engagement involves everyone. Only 33% of senior leaders said their company engaged them, so it's vital organisations raise awareness of the business and personal benefits to every level of management within their organisation
Provide practical knowledge and skills – 74% of UK respondents said they did not feel they had the training in how to engage their team
Align reward and recognition – leaders who strongly agreed that they expect to be rewarded and recognised for having fully-engaged employees are at least twice as likely to make EE a daily priority than all others.
To read the full report download Employee Engagement: It's Time to Go 'All-In' – Making Engagement a Daily Priority for Leaders